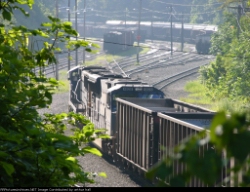 Welcome to the RRPictureArchives.NET contributor site of arthur hall.

I started taking railroad pictures in the late 1970's after my best friend, Mark Ratzer, got me to become serious about railroads. Even though I was raised in Chicago, my relatives lived in Buckhannon West Virginia. During visits I would go down to the tracks to pass the time while everyone else visited. Thanks to my parents support, I eventually wound up travelling to Grafton West Virginia. I was overwhelmed with all the activity there. At that point, the steam era facilties were still standing. It has been my favorite destination ever since. Growing up in Chicago has also led to expanding my horizons railroad wise. After getting my drivers license, short trips to various locations around Chicago became possible. I now travel all over with my job and enjoy visiting locations I have only read about. I began shooting with a 110mm instamatic, changed over to a Nikon and slide film, and now shoot digitally. I hope you enjoy looking over my photos. Please feel free to contact me with comments or corrections. Thanks.

You may browse my collection of pictures via the menu located on the left hand side of the page. I hope you enjoy the collection and thanks for stopping by!
Note: This site is best viewed in Internet Explorer 6.0 or above.
Select one of the links from the menu on the left to begin browsing the collection.